Copa Bull Terrier 2013 In Hamamatsu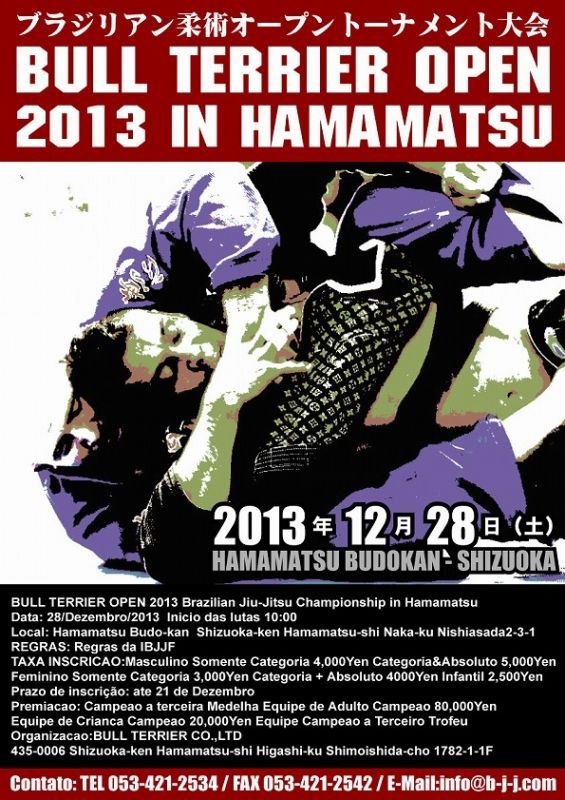 Bull Terrier Fight Gear Bring you
COPA BULL TERRIER 2013 In Hamamatsu
What time: 9:00 Opening of Venue, 10:00 start of competition
Where: Shizuoka - Hamamatsu Budo-kan
Shizuoka-ken Hamamatsu-shi Naka-ku Nishiasada2-3-1 TEL053-456-0314
ONLINE REGISTRATION: 12st October,2013 ~

21th December, 2013
QUALIFICATION OF ENTRY:
In good health without infection.
Sign is required for Junior who compete.
AWARDS:
Trophy to Top Three Teams.
Cash Prize 80,000JPY to Adult Team Championship
Cash Prize 20,000JPY to Kids Team Championship
Points are given to winner - 9pts, first runner up- 3pts, 3rd- 1pt.
Medals to Medalist of each weight division/absolute category.
Bull Terrier Gis to Adult Absolute winner of each belts category.
ENTRY FEE:
Adult Male 4,000JPY (Absolute +1,000JPY)
Adult Female 3,000JPY (Absolute +1,000JPY)
If only Absolute, same price as weight division.
* No entry fee for all black belts competitors.
PAYMENT METHOD:
1. Cash delivery service by Japan Post office - Please enclose the correct amount with the entry form and send to below address:
1F 1782-1 Shimoishida-cho,
Higashi-ku, Hamamatsu, Shizuoka
Deadline: 30th June, 2013
2. Local Bank Transfer - Handling charge paid by payer
3. Pay at venue at the day - Entry fee +1,000JPY
For Overseas
1. Pay at venue at the day - Entry fee +1,000JPY
2. Credit card through Paypal or wire directly from Paypal account
RULE:
Enquiry